2022 Incidents
Jan
40
Feb
32
Mar
23
Apr
36
May
Jun
Jul
Aug
Sep
Oct
Nov
Dec
Total
131
2022 Jobs
Fires
5
Assists
4
Extrications
2
Rescues
1
Past Incidents
2021
443
2020
363
2019
399
2018
471
2017
383
2016
354
2015
390
2014
424
2013
399
2012
374
2011
431
2010
395
2009
370
2008
381
2007
435
Website Visitors Since
November 8, 2006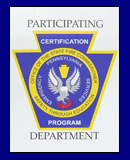 Use of Website Material:

Duplication of text, photos, or any other content on this website is prohibited without permission of Twin Valley. If you have questions, please contact us at info@tvfd69.org
By TVFD
May 19, 2022
On May 19th Lauren Dymond graduated from the Octorara Homeland Security Protective Services Academy (OHSPSA). This is a 3 year program that includes disciplines in Fire, EMS and Law. With completion of the program she will receive 84 certifications in total. Those certifications include Firefighter 1 and challenged and passed the National certification, VRT, EMT National certification and Law defensive tactics and threat assessment. At the graduation ceremony she led the class in the pledge of allegiance. Lauren was also named number one in her class. TVFD is proud of her accomplishments in the program.