2020 Incidents
Jan
34
Feb
26
Mar
Apr
May
Jun
Jul
Aug
Sep
Oct
Nov
Dec
Total
60
2020 Jobs
Fires
1
Assists
0
Extrications
1
Past Incidents
2019
399
2018
471
2017
383
2016
354
2015
390
2014
424
2013
399
2012
374
2011
431
2010
395
2009
370
2008
381
2007
435
Website Visitors Since
November 8, 2006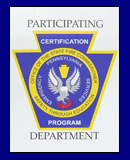 Use of Website Material:

Duplication of text, photos, or any other content on this website is prohibited without permission of Twin Valley. If you have questions, please contact us at info@tvfd69.org
Juniors Attend Safety Camp
By TVFD
June 30, 2018
Yesterday afternoon, 2 of TVFD's junior firefighters graduated the Chester County Junior Public Safety Camp. Michaela Brooks and Lauren Dymond joined with several other juniors from around the county at the state of the art training center in South Coatesville. These young volunteers dedicated 40+ hours the past week in both the classroom as well as participating in hands on training to further their knowledge, skills, and abilities in both firefighting and emergency services. The camp covered such topics as fireground operations, fire extinguisher training, fire safety, hazardous materials, first aid/CPR, law enforcement, criminal justice, and 911 operations. Junior cadets also had the opportunity to visit Philadelphia's airport fire department, fire boat, and museum during a mid-week field trip. We really appreciate the time and effort of the instructors and support staff who brought decades of experience and applied that to the curriculum. Our juniors are the future of both Twin Valley Fire Department and the emergency services. We are extremely proud of the hard work and dedication of these recent camp graduates as well as all TVFD junior firefighters.
*Photos courtesy of TVFD members and CCDES.
http://www.dailylocal.com/general-news/20180628/firefighters-teach-kids-at-junior-public-safety-day-camp



Philadelphia ARFF station




Philadelphia fire boat




Philadelphia fire museum




Graduation day




Rescue 69 and Air 46 at apparatus display




Proud graduates




Deputy Director of Fire Services Beau Crowding




Director of Emergency Services Robert Kagel




TVFD crew




Chief 69 and daughter Michaela Brooks
BIFF RUGH
June 30, 2018 at 1:46 PM
What a great leaning experience!!